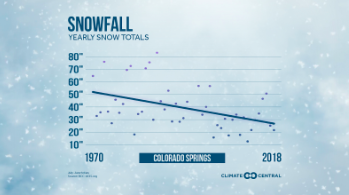 October 11 marked the beginning of Colorado's 2019/2020 winter recreation season when Arapahoe Basin became the first ski resort in the country to open its lifts. The following day, Keystone, one of Colorado's most popular snow sport areas, also opened for the earliest start of ski season in their history. These occasions mark the beginning of a beloved season, causing impatient excitement for additional open lifts and trails and nationwide buzz for skiers and snowboarders alike. This time of year also reminds us that we can each make a difference–by staying informed on the latest water news, by taking daily action to be more water conscious, and by keeping the conversation going with friends and family about the water challenges facing our beautiful state of Colorado. Staying curious and engaged goes a long way, and reading this blog right now is proof that you're already on that path!
In Colorado, outdoor recreation is not only a preferred pastime, but a powerhouse industry. Fueled by the 71% of Coloradans who participate as well as 80 million yearly visitors, it creates over 500,000 jobs, boosts the economy, and supports local businesses. A large piece of this recreation, amounting to roughly $28 billion a year, is made up of winter activities like skiing, snowboarding, and snowshoeing.
The success of the winter season relies, unsurprisingly, on a robust snowpack. While last winter yielded above average snowfall, this past summer proved that one wet winter will not keep Colorado out of arid conditions. Scientists recorded the highest temperature in Colorado history, 115 degrees Fahrenheit, leaving land abnormally dry in over half of the state despite the promising snowpack.
This back and forth weather pattern has been coined "weather whiplash" by climatologist Dan Swain, who warns that this could fast become Colorado's new normal. These drastic climate fluctuations mean that adequate hydration is far from guaranteed and extreme weather events loom more prevalent than before. In the Special Report on the Ocean and Cryosphere in a Changing Climate (SROCC), the UN Intergovernmental Panel on Climate Change reported that a declining snowpack has resulted in diminishing runoff, limiting crucial water for drinking and agriculture. Additionally, high temperatures and fast-melting snowpack have been linked to an increase in wildfires.
This new weather has forced the winter recreation industry in the state to adjust to new and formidable challenges, affecting both those who participate in winter recreation and the businesses that build the industry. Snowpack, the backbone of Colorado's winter sports economy, is becoming a diminishing resource, with overall 20 inches of annual snowfall lost between 1970 and 2018. This loss in snow ultimately could affect the level of tourism that winter recreation draws in, thus having an impact on the state economy and the livelihoods of those employed by the winter recreation industry. An unpredictable season challenges the capacity of ski resorts to predict their open months accurately, making it difficult for them to plan ahead financially. The weather also threatens those who enjoy winter recreation, as these fluctuating temperatures increase the risk of sudden avalanches, making trail conditions unpredictable.
The inconsistent weather that has been documented in past years poses a major threat to the winter recreation industry and further, to the state's economy. So whether you're a ski bunny, a business-owner, or even a Coloradan who appreciates the state's beautiful snow season, this changing climate demands that all of us pay attention, stay informed, and take steps to become more climate-friendly. Now, go enjoy (and appreciate) the snow that currently blankets our majestic Rocky Mountains!

---
Dec 26, 2019 -
Thursday's report from the United States Drought Monitor shows the month of December has not been kind to most of Colorado. Drought conditions statewide have jumped to 68% of the...