Latest: W4C condemns Supreme Court Decision that Strips Wetlands of Critical Protections, Guts Clean Water Act
Denver — The Water for Colorado Coalition is deeply disappointed by the decision handed down May 25th by the Supreme Court on Sackett vs. Environmental Protection Agency (EPA), which strips over half of America's wetlands of critical Clean Water Act (CWA) protections and leaves our state's fragile ecosystems vulnerable to pollution and degradation.
The Water for Colorado Coalition offered the following statement in response:
"The Supreme Court's decision in Sackett v. EPA topples critical Clean Water Act protections. The decision leaves most of our wetlands unprotected from development activities that cause pollution and water quality degradation. It threatens critical resources that provide wildfire mitigation, flood management, natural water storage, and other essential benefits for Colorado's ranchers, farmers, communities, and wildlife. Colorado, as a semi-arid state, is disproportionately impacted by the Supreme Court's ruling because the vast majority of the state's wetlands and streams are not perennial, and therefore just lost federal protection. 
Although this most recent decision is a poignant reminder of the fragility of our waterways, it isn't the first time wetlands and smaller waterways have had protections removed. CWA protections were temporarily rolled back in 2020 due to the previous administration's 'Navigable Waters Protection' (NWP) Rule, subjecting 25,000 miles of Colorado streams and rivers to construction impacts and pollution — again based on flawed logic that failed to account for the varying nature of wetlands. The NWP was overturned and replaced with the Biden Administration's significantly more protective rule, but this rule will now need to be rewritten in light of the Court's recent opinion. Therefore, we're once again staring down irrevocable harm to our rivers and streams, and the overarching weakening of what's been a critical piece of environmental protection for over 50 years."
Read the rest of our statement
"All living things are inextricably linked by their common water course and where, as humans settled, simple logic demanded that they become part of a community."  
– Colorado River explorer John Wesley Powell describing watersheds as systems.
In April 2020, when the Trump-era Navigable Waters Protection (NWP) Rule went into effect in Colorado, leaving upwards of 25,000 miles of Colorado streams vulnerable to pollution and construction impacts, we saw just how fragile our relationship can be to the watershed community to which Colorado belongs. Ephemeral streams, which respond primarily to precipitation events and flow seasonally, constitute 68% of waters in Colorado, were put especially at-risk.
Up to 50% of all Colorado streams, rivers, and wetlands are at risk of being irrevocably harmed by rollbacks to the Clean Water Act. This could lead to numerous harmful outcomes. Regardless of their size or frequency of flow, streams and wetlands are connected to downstream waters and strongly influence their function. People, birds, and other wildlife gain many beneficial ecological services from freshwater ecosystems such as clean drinking water and wildfire resilience.
Although the Clean Water Act was re-instated later in 2021, our rivers, streams, and wetlands could continue to face threats — at both a federal and state level — until we have strong state action preventing pollution and protecting our waters. If we do not, we may see our iconic riverbanks and wetlands turned into parking lots, malls and housing developments, filled by dams or dried up by diversions. We could see our meandering backyard streams lost under piles of dirt. One thing is clear: Colorado waterways deserve protection. We need urgent and immediate state action to ensure our waterways and clean water are protected, regardless of who is in the White House. While a challenge from Colorado's Attorney General Phil Weiser protected Colorado's streams for an additional 10 months following the rule's implementation nationally, it is now up to Colorado's General Assembly to take the action necessary to protect the streams and wetlands that provide reliable drinking water, crucial wildlife habitat, and sustain a $19 billion water-based outdoor recreation economy in the state.
Make Your Voice Heard
In late 2021, the EPA announced their intention to revise the definition of "waters of the united states." The public comment period ended in early-February, 2022.
The Clean Water Act remains in jeopardy as the Supreme Court hears arguments in late-2022. Check back on opportunities to engage to ensure Colorado's state waters remain protected, regardless of what happens at a federal level.
Maps of Threatened Areas
These maps, created by Coalition partners Trout Unlimited and The Nature Conservancy, illustrate the extent of potential damage to Colorado's streams and wetlands. In each, the darker the color, the higher the percentage of streams or wetlands lost in each watershed.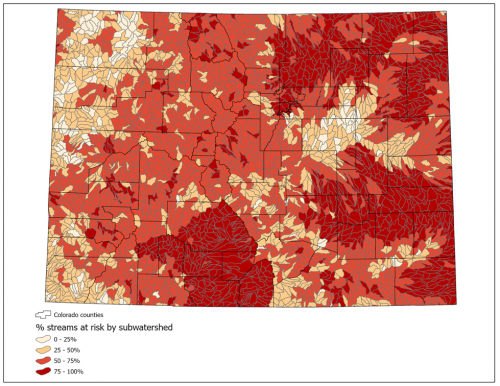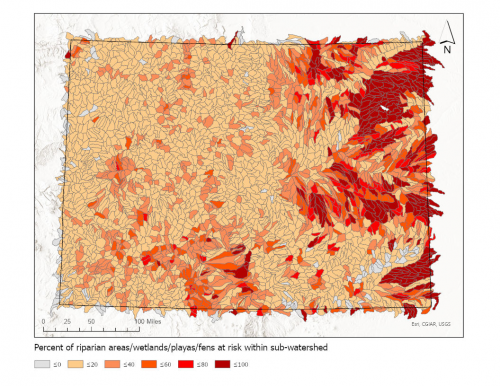 What We Could Lose
Rivers, streams, and wetlands across the state have the potential of being polluted by the Clean Water Act rollback, including places that many Coloradans know and love. From high altitude streams and wetlands to floodplains and dry desert washes, many of these critical areas are at risk. While Colorado's beloved mainstem large rivers are not at risk, many of the smaller streams, washes, wetlands, and fens that comprise their upper watershed are. And these waters – and whatever else might be in them – travel downstream into mainstem rivers.
Areas under threat include:
Headwater streams
---
The beginning of river systems, headwater streams are small trickles that often start up high and are the source of all major river systems. Headwater streams often rely on precipitation events for the majority of their flow, but do not always dry up when precipitation events end. They can instead turn into smaller streams, small ponds or blend back into wetland or marsh areas. These are the most common waterways across America.
Desert Washes
---
The bed of intermittent or ephemeral streams (those streams that only flow during certain times of year) that come alive with large precipitation events, when upstream reaches are flowing or when groundwater provides enough water for stream flow. These areas are particularly important in canyon systems like Ruby Horsethief, a 25-mile stretch of the Colorado River on the state's West Slope. While not always full of flowing water, they are designed to move water downstream. These streams are essential for healthy river systems, and are connected to downstream waters.
Fens
---
Groundwater fed wetlands composed of organic soils that can take thousands of years to form. These high elevation meadows are incredibly sensitive wetlands, and a high priority for protection and restoration.
Alpine Lakes
---
High-altitude lakes starting above tree line.
The Quiet Cost
While iconic places across our state could lose protection as a result of these rollbacks to the Clean Water Act, some of the most tragic damage may be to our smaller, intimate backyard streams, wetlands, and marshes where protection is quietly disappearing.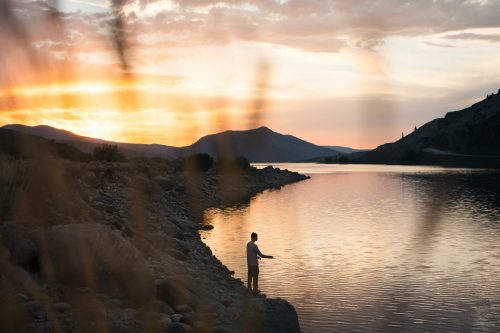 At first, the damage might seem small and could go unnoticed. But small changes can lead to big impacts – particularly downstream. Paddlers enjoying small streams could come across stray piles of dirt blocking their way; hikers rounding a corner may find the sound of a babbling brook dampened; anglers might realize their favorite river bank is no longer conducive to casting a line. The damage may be done before it is discovered, and the cherished places that compel us to get outside — to love Colorado in all its natural splendor — could be lost quickly, quietly, and without consequence.