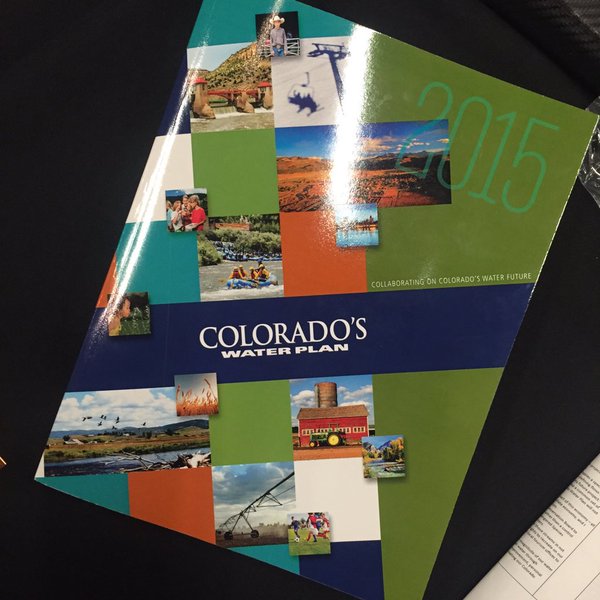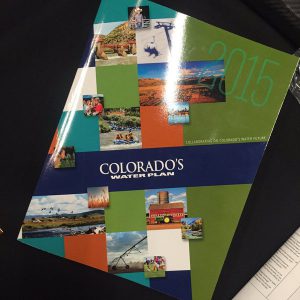 DENVER, Nov. 19, 2015 – Colorado's leading conservation and recreation organizations American Rivers, American Whitewater, Audubon, Conservation Colorado, Environmental Defense Fund, High Country Conservation Advocates, San Juan Citizens Alliance and Western Resource Advocates agree that Colorado's first-ever water plan is an important step forward for the state in terms of future water management. The final plan reflects Coloradans' values made clear in 30,000 public comments that revealed overwhelming support for conserving water in our cities and towns, protecting rivers and promoting a strong river-based recreation economy.
These conservation groups agree the plan will help protect Colorado's $9 billion recreation and outdoor economy, our vital agricultural communities, and the birds and wildlife that depend upon healthy rivers for survival, while also helping to preserve our Western way of life.
Specifically the groups applaud the fact the plan makes important progress in securing Colorado's water future by:
Setting the first-ever statewide water conservation targets for cities and towns, prioritizing water conservation as never before
Helping preserve and restore our rivers by proposing annual funding for healthy rivers, which will create ongoing and unprecedented financial support for river assessments and restoration
Making new, costly and controversial large trans-mountain diversions, which harm rivers and local communities, much less likely
Together, these groups express optimism about the plan's overall direction, and are committed to the implementation process. The groups emphasize that the plan will not be valuable without action from Colorado's leaders to implement it. Meeting all of Colorado's water needs will require implementation and action in the same spirit of collaboration, flexibility and innovation that was shown in producing the plan.
The groups will work with Governor Hickenlooper and the Colorado Water Conservation Board (CWCB) to protect Colorado's environment by strengthening the water project evaluation criteria so the state engages only in those efforts that are cost-effective and have support from local communities. The groups look forward to collaborating with the state, water utilities, irrigators, the business community and others to adhere to and execute the plan and protect water for future generations.
Overall Colorado's conservation experts agree the state is taking historic steps in the right direction by ensuring Colorado increases water conservation and recycling, keeps rivers healthy and flowing, and avoids new large trans-mountain diversions.
Experts weigh in:
"The plan provides ample water for fast-growing Front Range cities, while recognizing the importance of protecting what makes Colorado special: gold-medal streams, flowing Rocky Mountain rivers, healthy western slope communities, and abundant wildlife. It's clear that Coloradans value what our state has to offer and we are optimistic the plan will provide a down-payment for protecting healthy rivers and streams across the state. Now we have to get to work." Matt Rice, Director of Colorado River Basin Programs, American Rivers
"We commend the CWCB and the Basin roundtables for ensuring actions to protect Colorado's river systems and river-dependent recreation are incorporated into the plan. These critical actions need funding, stakeholder input, technical consultation and study as we manage water for the future and ensure that our recreation industry and whitewater rivers are world-class." Nathan Fey, Director Colorado River Stewardship Program, American Whitewater
"The plan addresses the importance of preserving and restoring our rivers' and steams' environmental resiliency. Recognizing we still need more information and action to achieve that goal, the plan recommends that Colorado invest in stream protection and restoration. By 2030, the plan has a strong goal that 80 percent of a priority list of Colorado's rivers and streams will have stream management plans." Abby Burk, Western Rivers Outreach Specialist, Audubon Rockies
"Coloradans overwhelmingly support water conservation, and we are pleased to see this plan proposing our state's first ever urban conservation goal. The plan recognizes that to meet our future water needs we must change the status quo from focusing on new, large trans-mountain diversions to prioritizing conservation, reuse and recycling. We look forward to the Governor moving forward and carrying out our state's water plan to better protect our rivers and wildlife." Theresa Conley, Water Advocate, Conservation Colorado
"Colorado is taking an historic step in the right direction with this first water plan. Meeting all of Colorado's water needs moving forward will require implementation and action in the same spirit of collaboration, flexibility and innovation that was shown in producing the plan." Brian Jackson, Associate Director, Environmental Defense Fund
"We commend the Governor and CWCB for committing to water conservation in such a common-sense manner. Making better use of the water we already have is the cheapest, fastest and most flexible way to meet new demands – it's just a no-brainer." Bart Miller, Water Policy Director, Western Resource Advocates
---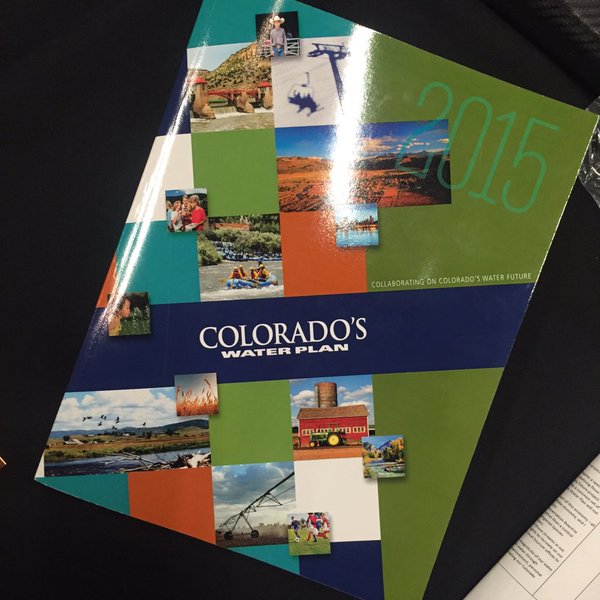 Nov 19, 2015 -
Here's a roundup of coverage of the plan's release. Aspen Journalism: Boiling down the Colorado Water Plan's action...