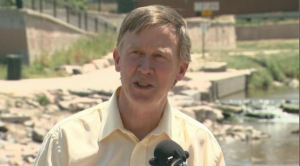 From the Denver Business Journal: Gov. John Hickenlooper said it's "unlikely" public opinion across Colorado would allow for the construction of a new major dam project, despite a continuing increase in the state's population and an ongoing drought.
The governor made that prediction during a meeting of the Colorado Water Congress, Aspen Journalism reported.
Hickenlooper said that based on what he's been hearing, the public might be more in favor of increasing the height of existing dams by 5 or 10 feet. That would increase the amount of water a reservoir could hold. But he cautioned that "I'm not sure we have enough capacity just doing those projects for all the water we're going to need."
Hickenlooper also called for cooperation among often-warring factions in Colorado's water world, be they Front Range water providers trying to deliver water to a growing urban population, Western Slope ranchers and farmers working to preserve their rural way of life and the future value of their private water rights, or river-lovers on both sides of the divide fighting to keep water in rivers for fishing, boating or nature's sake.
"Water can either divide us, or unite us," Hickenlooper said. "In the end, it's our choice. I think in this state, we generally choose to collaborate and work together to try and find compromises and make sure that it doesn't divide us."
Social Share